Razer Blackwidow Chroma Stealth review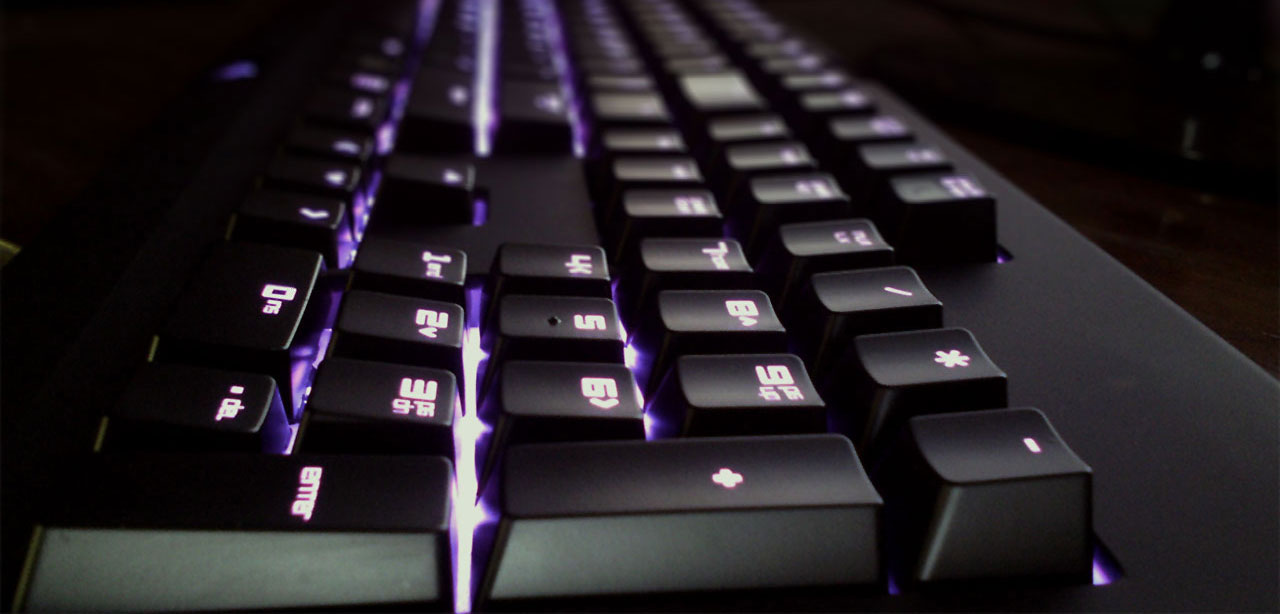 Honesty time, folks, although I'm certain I'm hardly in the minority: I feel like I could have lived the rest of my days without ever really needing a mechanical keyboard. I've been a PC user for the better part of 25 years now, and I can say without a doubt that the keyboard would be close to if not dead last in a list of computer-related peripherals that I want premium, souped-up, turbocharged versions of. Knowing all that, however, does little to decrease my enjoyment of the mere act of typing words on this thing. My fingers are currently dancing across the keys of a Razer Blackwidow Chroma Stealth, and man, it feels right.
The keyboard
The Razer Blackwidow Chroma Stealth is a full-sized mechanical keyboard which features all the keys you'd expect plus five on-the-fly programmable macro keys for those really repetitive keystrokes that you might want to automate. I've always been leery of "gaming equipment" for PCs in the past, but after some extended use, I may be ready to defect.
The Blackwidow feels like a premium product right out of the box -- a heavy, matte-finished, braided-cabled, angular monster that exudes a notable presence even just lying unplugged on the dinner table. The keyboard is cased in plastic all around, although I won't be surprised if it hides a metal frame because it's incredibly heavy. This is the first keyboard I've used that doesn't flop around like a screen door at the slightest bump.
I like the plain and timeless design of the casing. The only halfway-flamboyant flourish is the light-up Razer logo located right in front beneath the space bar. I can live with it. The rest of the device is no-nonsense all the way -- no spikes, angles, nooks, crannies, or anything else "gamerly" that resembles a Terran Starcraft unit or a weapon from Mass Effect.
In fact, the only offender in this regard -- and I already feel awful for using so strong a word -- is the typeface used for the letters on the keycaps. It's all boxy and right-angled and just a tad too science fiction for my liking. I am a graphic designer by profession, so your mileage may vary, but I knew something was up when my eight-year-old nephew took one look at the Blackwidow and proclaimed that the keys looked like they were straight out of Minecraft.
They're not ugly, mind you. They're simply keycaps with way too much personality housed in a body designed to turn invisible the moment you take your eyes off it.
The whole mechanical thing
I know next to nothing about mechanical keyboards, and this is the first modern one I've ever used. I make the modern distinction for a reason: I'm pretty certain our old Xerox PC from the late 80s that used 8" floppy diskettes had a mechanical keyboard because it was huge and heavy and noisy like a typewriter, and you can kill someone by hitting them in any spot remotely close to their head with it.
I tried to do some research, but after slogging through pictures of colored cross-shaped plastic things and strange cutaway animations of things pumping each other, I decided to default back to my understanding that mechanical keyboards utilize -- you guessed it -- mechanical components to register keypresses instead of the good old mushy rubbery things our old, cheap keyboards used to have.
Razer has helpfully put together a page about their mechanical switches here, if you want to know more. This particular keyboard model uses the Razer orange switches. More on that later.
I can't say I fully understand what's going on beneath these keys as I type, but the feel is solid and satisfying. It takes more force to actually push a key all the way down, but amazingly, keys still register if they don't go all the way. There's a threshold somewhere in the middle of fully-up and fully-down where the key registers as a press, and that threshold is very comfortable. I'm typing up a storm right now and I haven't wondered even once whether I actually hit a key hard enough for it to register or not. I'm even typing this very sentence without looking at the monitor! I look like an idiot! Happily, this idiot has made zero mistakes so far. The mechanical action gives me some great tactile feedback, and it makes typing very pleasurable. I can say without a doubt that typing has never felt better -- it's certainly leagues beyond the feel I got with my old non-mechanical keyboard.
So here I am, typing and enjoying every second of it, my fingers flying with effortless grace like I was nailing a Santana song note-for-note on a fretboard, my brain processing all of the soul and emotion and none of the physical act of actually moving my appendages. Short version: I'm really getting into it. When I get into it, I go all-out. And that means lots and lots of noise.
My point? Don't expect too much from that bit on the package where it says "stealth". The orange switches in the stealth model are certainly not as noisy as the green switches in the non-stealth Blackwidow Chroma that I tried at a local Datablitz branch, but the noise this keyboard generates when I'm typing up a storm far exceeds that produced by any old keyboard I used to own. It's particularly noticeable in the early morning when everything is quiet and the clacking cuts through the serenity like an anime katana through a starship hull -- you'd think it wouldn't happen, but then you'd be surprised.
I like the noise. I think it lends a certain rhythm to my writing. I don't notice it as much during games, but then again, if I were playing a game and my mind kept drifting back to the noises my keyboard was making, it probably isn't a very good game.
Gaming performance
I tried a bunch of titles with the Blackwidow: Borderlands 2, Shadow Warrior, Starcraft 2, The Vanishing of Ethan Carter, and Sokobond. I initially had a bit of trouble with homing in my keys without looking, because the macro keys positioned along the left edge kept throwing me off -- I was so used to finding the A key directly to the right of the leftmost key on the keyboard, and now there was an extra key on the left to consider. My first few tries at strafing left in the first-person shooters resulted in the caps lock being engaged and disengaged and a whole lot of nothing happening in-game.
Once I grew accustomed to the layout, though, I discovered that I still played just as badly as I used to. You must understand that I'm not an amazing player, although I am an avid gamer. The mechanical nature of the Blackwidow did little to improve my in-game performance, but as a consolation, pressing the keys sure felt a hell of a lot better than ever before. I suspect that features like the mid-press activation point and the excellent tactile feedback will offer a significant advantage in high-level play. Unfortunately, my own skill level is far from maximum.
Incidentally, this keyboard also performs amazingly well in Zork.
Pretty lights and other features
The Blackwidow has passthroughs for one stereo jack headset, one stereo jack microphone, and one USB port. You can plug all four of the keyboard's dangling bits (two stereo, two USB -- the other USB is for the keyboard itself) and plug your devices into the ports built into the right side of its casing. I left the stereo jacks unplugged, but I found the USB passthrough useful for extending the range of my USB headset. No complaints here. It's a nice feature to have.
There's a laptop-like function key beside the right Alt button that adds some media control functions to the keyboard when used in conjunction with the function keys. The basics are all here: volume control, pause/play, previous/next track, and as a bonus, dim/brighten lights. More on that in a bit.
A simple keystroke also turns on "Gaming Mode", which can do things like disable the Windows key when it's activated. Accidentally hitting the Windows key and subsequently losing the game has never been a problem I've had, but it's nice to know that we can minimize any danger of that happening all the way down to zero.
Now that that's out of the way, let's look at the last big feature on this keyboard. Hint: it's written in huge multicolored letters on the box itself.
The Razer Chroma line features Chroma lighting on the device that allows it to display any one of 16 million colors -- very useful if you're into deep purple-colored gaming peripherals and there's an inexplicable shortage in the market.
The Chroma feature certainly isn't essential, but it is indeed very fun. The Razer Synapse software which downloads and installs itself upon plugging in the device to your computer lets you control how the lights behave -- you can set it to do all manner of things from displaying the entire visible color spectrum in a wave animation across your entire keyboard, to displaying just a static color of your choosing, to the keys creating a "light-ripple" effect that emanates from every key you press and travels outward across the other keys in a cool display.
By cool, you must understand that I mean cheesy as all hell. But you have to see it at least once, I swear. You may even grow to love it.
Razer Synapse allows you to customize the lighting for the entire keyboard key-by-key as well. RIght now, my Blackwidow's letter keys are white, while the keys surrounding it including the number keys and the space bar are bright yellow. The function keys are teal. The escape key is red. The macro keys are blue. I could make a checkerboard pattern if I wanted to. There may even be some pixel art potential to this thing. In a nice and unexpected touch, you can even set the color and behavior of the light-up Razer logo in front! Good on you, Razer.
One final comment about the lighting, though: I wish there was a way to have just the keycaps lit up. I like to work and write in dim light on occasion, and while the illuminated keys on the Blackwidow let me do those with ease, I'm not a fan of the light-up gaps in between the keys. They're just distracting. Fun as the lights may be, I'd prefer to see only the important bits of the keyboard lit up. I can't say if it's an engineering issue, but I do wish there was a way to turn off those gap lights.
Go mechanical?
If you're reading this review to help you decide whether it's time to go mechanical or not, then read no more: go get this keyboard (or its non-stealth variant) right now. Things to remember, though: this keyboard does not go well in any environment where you may wake up your sleeping roommate/sibling/partner/spouse/child with your incessant clacking. This keyboard does not improve your performance in mouse- or gamepad-only games. This keyboard will most likely not raise your K:D to 1 or greater if you weren't already there to begin with.
If those things are not factors for your enjoyment of a new keyboard, then you're gold. The key action feels way better than any keyboard I've ever used in the past -- zero exaggeration here. Your typing will improve, you will feel like a rock star while writing, and if you're a very competitive gamer, you'll probably see some improvement in your performance as well.
The Razer Blackwidow Chroma Stealth is the best PC keyboard I've ever used. I haven't used much, and I have never used a mechanical keyboard before, but this is leaps and bounds beyond all the rest I've tried. If you're still using a boring old non-mechanical keyboard, then it may be time to give this a serious look.